My Advent calendars 2017
My Advent calendars 2017
Advent is already here, so it's time to write an article about Advent calendars. You know, I've been crazy about them this year and I've been looking for them since early November. In the first week of November, everyone laughed at me that they had no stock at all. The reason is that last year I underestimated this and was hardly looking for it because they were all sold out. That's why I want to show you in this article which are "mine" (not all of mine) and I think it really is worth it. And they don't cost hundred dollars, do not worry.
You can also look forward to unboxing Advent calendars on my insta stories, so if you're not following me (you can find me @howtofailyournails), sure to go. Also, after Christmas, you will be able to find an overall rating and photos of all products on this blog. I will probably take a lot of time to take a photo of everything, but what I would not do for you 🙂 Let's go for it.
Balea Advent calendar. So, this is the story in itself. I had been looking for it since the second week of November, as I learned from Vinted that it should be in a limited amount in the shops. And when I say in a limited amount, I mean exactly two pieces. No one knew, not even the salesperson, if another batch will come, and so it was considered a "collector's edition" for a few weeks. I ran to DM drugstores every day and because I live in Brno, always and everywhere it was sold out. Eventually, DM finally said it would be on sale from November 22. My surprise when I went to the shop and took one of the last pieces 😀 To tell you why I wanted this calendar so much. I had it last year and liked it a lot (you can find an article about that Advent calendar from last year here). So, I hope it will not disappoint me this year either.
Essence. Finally, after several years, we also have an Advent calendar from this brand in the Czech Republic. Well, not quite, you can buy it at the e-shop, in limited quantities at selected Rossmann stores or in Globus. But let's be honest, this is not enough coverage for the whole of the Czech Republic. So, I finally bought it from the e-shop, because I like this brand very well and last year Šarlota had this calendar (you can find the unboxing for last year's calendar in this article). I thought that things would be the similar as last year, and it came to me that they would use most of these things, and for the rest, I would give them to someone.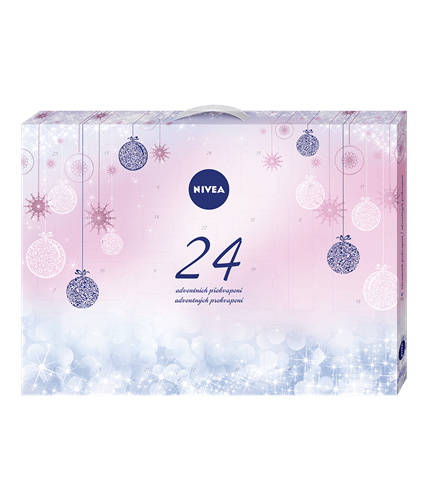 Source
Nivea Advent calendar. Nivea does not belong to my favourite brands, but because my mom and grandmother like it, I bought it, and it made them happy. It was one of the few calendars available at the beginning of November in Teta drugstores. As I looked around, there will be choice for both women and gentlemen. I'm curious how will they like it.
Hazel Advent calendars. Perhaps my favourite. Where the food is, I am there. Albert created big calendars this year with nuts and fruit. You can find two types, one only with nuts and the other with nuts covered in chocolate and different frostings. I will definitely let you know at the end how it tasted 🙂
Alcohol Advent calendar is new to me. This advent calendar is not a luxury and it was not so expensive, so I just hope the alcohol will be drinkable. It contains several kinds of alcoholic beverages. We ordered it from an e-shop and it somehow weirdly clinked on the way home from the post office. We prayed for nothing to be broken. It was not, but all the bottles fell and were overturned. Damn it.
The classic chocolate Advent calendars everyone had as a small child. With a little mole, with teddy bears, with fairy-tale characters. I always get them from my grandmother, and this was also the case this year. If you like chocolate and this will come to you as a faint coffee, you can buy a bigger and more expensive calendar from Kinder and that is something! I can only recommend.
I admit that I belong to the minority who truly cleanses the boxes every day and never opened anything in advance. Even though I'm going away for the weekend, I always open it afterwards and not before. What about you? Do you hold yourselves or do you open everything and eat in one sitting? And what calendar do you have this year? Write it in the comments.
Lucie